File Types

---
Acceptable File Types
Most Preferred File Type:
Other Preferred File Types:
Adobe InDesign (packaged file must include all fonts and high res images - Preferred PDF should accompany native file if possible)
Adobe Illustrator (fonts created to outlines)
Adobe Photoshop (layered files)
TIFF Images (layered or flat files)
PostScript Document (.eps or .ps files must be created with fonts and high res images embedded)
Although we can work with the following file types, they may incur an additional charge since they don't fit directly into our production workflow. We also cannot guarantee the quality of the print produced by the following file types.
JPEG, PNG, GIF, Bitmap Images
Microsoft Publisher
Microsoft Word
Microsoft Excel
Microsoft PowerPoint
Windows Metafiles or Enhanced Metafiles (.wmf or .emf)
---
Native Files
Native Files is a general term for what program the project was created in. The original files that were used to create the project or document. (e.g. InDesign, Quark, Publisher, etc.) All these types of files generally need packaged or collected for output at a commercial printer. There should be a few steps included to get a packaged file to us. We recommend that the final collected folder contain the native file, any graphics used and any fonts used in the document. This folder then should be zipped or stuffed (compressed) before uploading to our website.
---
| | | | | | | | |
| --- | --- | --- | --- | --- | --- | --- | --- |
| Adobe Acrobat | Adobe InDesign | Adobe Illustrator | Adobe Photoshop | Microsoft Publisher | Microsoft Word | Microsoft Excel | Microsoft PowerPoint |
---
PDF Export Job Settings
If you use InDesign on a regular basis to setup and design printed artwork, you will love the addition of the Pittcraft Printing Job settings. The file below will make the headache of exporting PDFs for print seem like a thing of the past. It's as simple as 1... 2... 3... Try it out and you'll love exporting files for print.
Avoid the headache of trying to set up your PDF settings. Click on the icon above to download our custom PDF settings. This file can be imported into InDesign to create print ready files for us to use.
#1
Open your InDesign application.
Under the "File" menu, go to "Adobe PDF Presets", Click on "Define".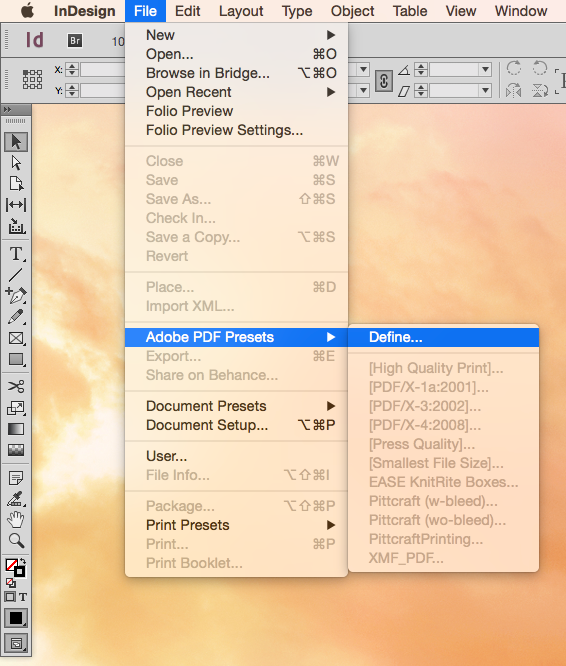 #2
A new menu titled "Adobe PDF Presets" will open.
Click on the "Load" button on the right.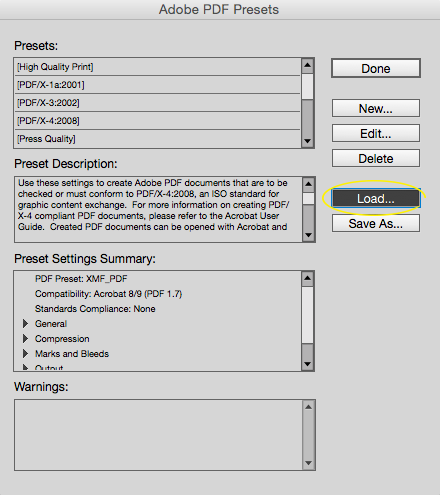 #3
Select the "PittcraftPrinting.joboptions" file that you've already downloaded off of our site.
Click on the "Open" button.
This will add "PittcraftPrinting" to the bottom of the list of "Presets". Once the set is loaded, you can click on the "Done" button and you're all set!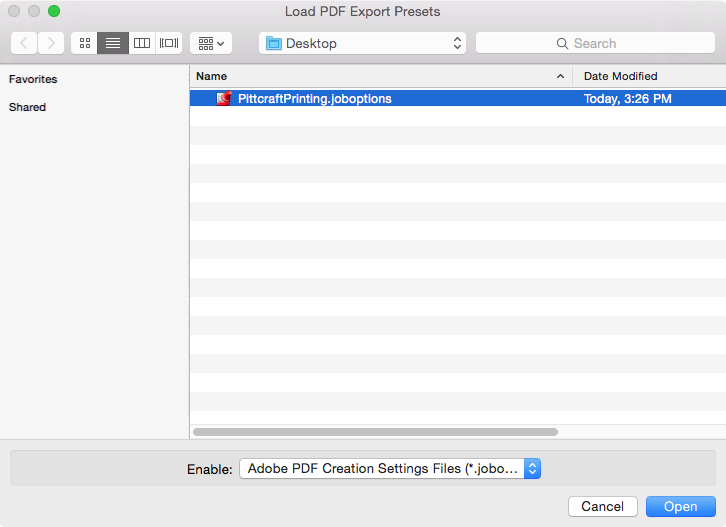 Congratulations!
That was easy, right?!
You will see your new export setting in the "Export Adobe PDF" menu. Now you're all loaded up and ready to send us some jobs! Lets get printing!