Document Setup
---

Document Size
Document Size is the finished flat paper size of the final printed piece. Your document should be created using the final trim size. If your document has artwork that will need to bleed/extend off the page, set the bleed area to 1/8". If using a program like Publisher the bleed size will need to be added to the document size. The document size should be set to the flat side of a folded piece, the single page of a booklet, or the largest dimension of a custom die-cut piece. (Example: 8.5" x 11" with bleed should be 8.75" x 11.25")
Bleed Area
Bleed Area is any place the artwork (graphics, photos, or text) is printed to the edge or past the edge of the finished piece. Presses cannot print to the edge of a sheet of media, any artwork that is required to go to the edge must be extended beyond the trim edge by 1/8". Build resource files 1/4" larger than the trim size. Sometimes a document does not require artwork to extend past the trim area and may be provided at the final size. (Example: 8.5" x 11" with bleed should be 8.75" x 11.25")
Live Area or Safe Area
Live Area or Safe Area is a smaller area inside the document size for text and artwork that needs to remain on page after trimming. Keep all content at least 1/4" from trim (page numbers, type, logos, etc.) (Example: 8.5" x 11" with the safe area should be 8" x 10.5") The minimum safe area is at least 1/8" and is not recommended for large books or folding projects.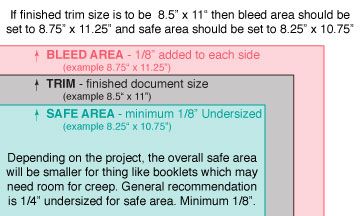 Creep
Creep is a term used when referring to bound books and the amount of paper that can push out past the trim. Usually, a term used in reference to saddle-stitched booklets. If the paper thickness in combination with a large number of pages is too much when folded, the live area in the middle section of the stitched booklet may be cut off when trimmed to maintain the finished dimension requested. This can be reduced by pulling the content toward the center of the booklet and thus alleviating the possibility of content being cut off when trimmed. Generally, not an issue for perfect bound or spiral-bound books. (Example: 8.5" x 11" with bleed should have a safe area of 1/4", allowing the safe area to be 8" x 10.5") For spiral bound books a minimum of 1/4" on the binding edge is required for the coil/wire clearance.
Color Bars
Color Bars can be added to a document when exporting out of programs like Indesign or Quark. These are not needed since we handle all the marks and color controls in-house. Please do not check all marks when exporting your document. On small documents, it can throw the center of the document off and cause cropping issues through our printing process. Crop and Bleed marks are ok if you would like to include marks in your document. Otherwise, we will take the document size provided and trim 1/8" off all sides when producing the final product.
Exporting (also see File Types)
Below are examples of what an InDesign export menu and a Quark export menu should look like when exporting a PDF to us. If you'd like to receive our custom PDF Export Job Settings see the file download below. This file will be able to create a PDF from InDesign with the settings we need with no extra work for you.
(click on images to enlarge)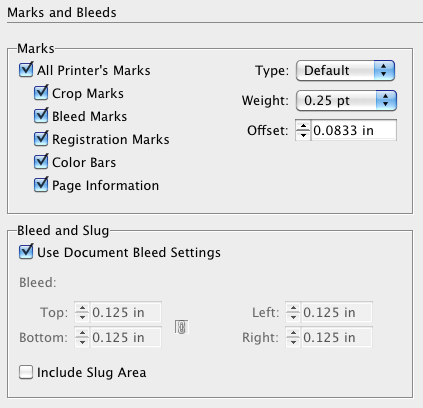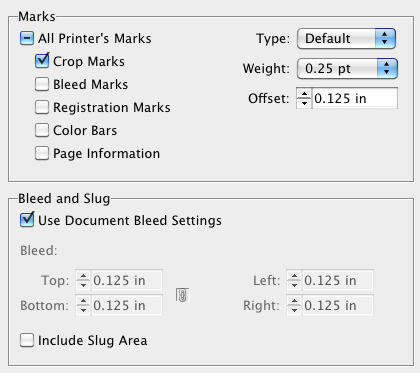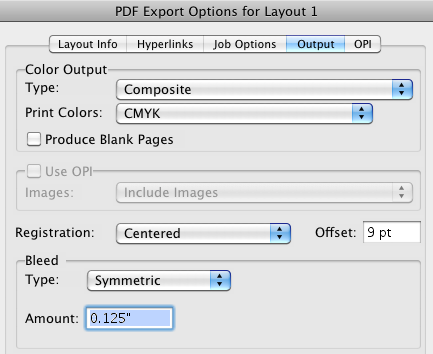 PDF Export Job Settings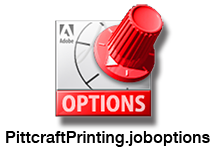 Avoid the headache of trying to set up your PDF settings. Click on the icon above to download our custom PDF settings. This file can be imported into InDesign to create print-ready files for us to use.
To see how to import these settings into your InDesign program, hop on over to the File Types page for detailed instructions.
Crop Marks
Crop Marks can be printed at the corners to show where the finished piece should be trimmed. These marks can be included with documents that have a bleed. When adding crop marks, please make sure not to allow them to touch at the corner. They should remain between 1/8" apart from each other at the corners. This is also referred to as offsetting the marks. Generally, when exporting from InDesign or Quark, file settings will need to be modified to offset marks by 1/8" before making the PDF or EPS.
(click on images below to enlarge)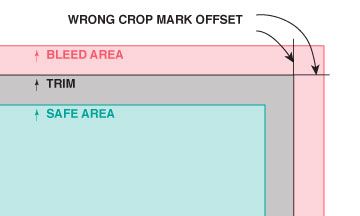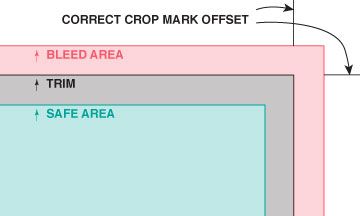 Pagination
Pagination is a fancy word for how the pages of your document are setup. We will set up the pages for our production process. Please provide PDFs as single pages in their correct order. Do not provide Reader Spreads or Printer Spreads.
Reader Spreads vs Printer Spreads
Reader Spreads are when a document is laid out with the page numbers in the order they are going to be read. The pages number in the order they are read.
Printer Spreads are when a document is set up to be 2 sides printed on and then collated together. The pages go in order of the way they will be printed.
Please note samples below are representing a 12-page booklet. All booklets must be created in a multiple of 4. This applies even if there are to be blank pages, we will need to know where the blank pages go in the layout. (Example: 4pg, 8pg, 12pg, 16pg, 20pg, etc.) Since we print booklets in-house on large sheets as 16 pages at a time, we will handle all the layouts for the press as we need. This is why it's important to get the pages in consecutive order as single pages.
(click on images below to enlarge)