A 41 Year Partnership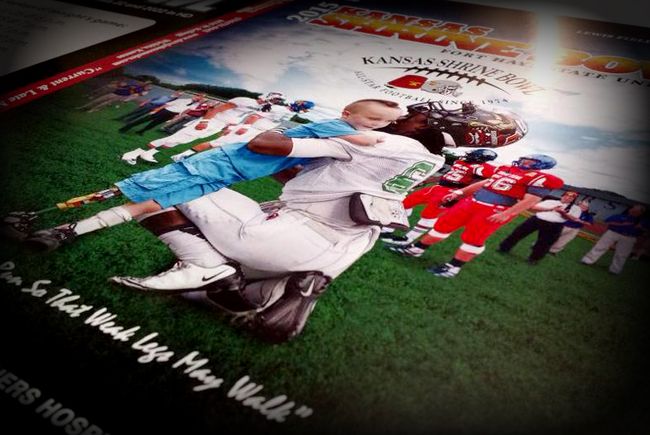 The Kansas Shrine Bowl game has been a flagship event for the Kansas Shrine since 1974.  The game features the most talented high school football players from schools across the state in an electrifying East vs. West game. The executive director of the Shrine Bowl, Sarah Van Petten, describes the mission of the annual game:
"The Kansas Shrine Bowl produces and presents all events to raise funds for Shriners Hospitals for Children. Shriners Hospitals for Children is a healthcare system of 22 Hospitals that provides specialty pediatric care in a family-centered environment, regardless of the patients' ability to pay."
 Pittcraft Printing is proud to be a part of this great cause!
The history between Pittcraft and the Shrine Bowl has remained consistent since the game's inception. Not only has Pittcraft produced nearly every game program, but two of Pittcraft's owners have played in the game and one of these owners was inducted into the 1985 Shrine Bowl Hall of Fame! The Shrine Bowl game program highlights individual players and local business sponsors from the host city. Director Sarah Van Petten describes the significance of the game program, saying, "The Shriners look at all these businesses that supported our book, and they want to go back and support them, too."
Van Petten also speaks highly of her experience with Pittcraft.  "I've only been the director for two years now, but it's always been great experiences. Pittcraft has always been very hands on. They sit down with us and make sure that our programs are set up correctly, making sure we get exactly what we want. I've been involved with the Shrine Bowl since 2002 and Pittcraft has never become complacent with the progress we've made with them. They are always working to find ways to make our job easier and our quality better!"
At Pittcraft Printing, we constantly strive to create and foster relationships with customers to achieve higher customer service and better quality than our competitors. For this reason, so much of what Pittcraft does for the Shrine Bowl goes further than just providing a program for the game. Van Petten says of Pittcraft's mission to build relationships, "They aren't just worried about getting material; they want to make sure we have all our questions answered. It's not just the cold relationship that you can have with some companies. The connection is awesome!"
Those of us at Pittcraft agree—connection with customers is the name of our game! 
---
---
< Ready To Partner?
     We are, and we'd love to hear what's on your mind. Drop us a note using the form above on the left.