Branding Your Space Via Large Format
July 13, 2018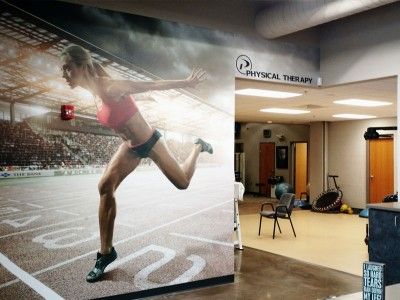 As you begin the journey of branding your event space or storefront, it's a good idea to plan ahead, leaving plenty of time to prep, design, produce, and install. There are a lot of details to cover, and neglecting any could lead to an underwhelming end result and a painfully stressful process.
Below are a few key points to cover before you dive into your next project of branding a space...
 
Assess Your Space
1.) How accessible are the areas?
Be realistic with what you're looking to accomplish. Yes, it would be nice to wrap the wall behind an indoor water feature that includes a waterfall or hangs giant banners from the rafters, but unless you plan to have access to a lift and installation team it may not be possible with the tools you have at your own disposal. In addition, elements such as moisture can affect both the material and the adhesive's ability to bond to surfaces. These are all things to consider when assessing your space. Try brainstorming ideas, and then scale them down to a realistic and achievable goal.
2.) What path will viewers travel?
You may know the area like the back of your hand, but most people having special access to an area don't typically travel the path a general visitor would. Stop and go to the main entrance, walk through as if you were attending your space for the first time. What do you see? Where do you enter? travel? and exit? Seeing the space from your visitors' eyes will help you get a better view of the areas that can provide the biggest impact on your viewers.
Mock-up, Review, Proof, Approve!
1.) How will I show others my vision?
It's a good idea to have your creative team "mock-up" your ideas by super-imposing the graphics into an image of the space(s). Most people have a hard time visualizing the end result before it's installed. This will give you or your client a visual benchmark of what to expect and the ability to review and approve before production. This can help you avoid stress during the installation process and prevent a project from turning out differently than you had hoped.
2.) Proof, and Approve!
Just like any production process... It is critical to have your client or powers at-be approve a project prior to any production. Once production starts, the costs are someone's responsibility, and that typically falls onto who approved the project for production. If you are doing this for a client, you then have a solid foundation to stand on if they don't like how it turned out. If you are the client, it gets you to stop and review the artwork more closely. Expectations are everything, and a clear visual idea of what to expect can help make the process realistic, efficient, and successful.
Consider Size
1.) How large is the space you're working with?
Large spaces can play tricks on us visually... We may not realize the magnitude of space until we have an unmanageable graphic ready for installation that someone can't work with because of its' size, or the cost is severely over budget from being overzealous in the creative concept phase. On the other hand, keep in mind what smaller graphics might look like in too large of an area... they may look awkward with an excess amount of empty space around them. The best idea is to find a space to work with that fits within the restrictions of your production capabilities and budget.
2.) Measure, Take Notes, and Pictures.
You know the saying "measure twice, cut once"... The same applies here. The last thing you want is to be unsure of measurement and end up with a finished graphic at an incorrect size or have to travel back to the site multiple times to confirm sizes. Take into consideration things like overlap (to wrap a graphic around an object), curves, or elements that you may need to work around like a light switch or electrical outlet. Bring a notepad, and map these things out by sketching the area, and take a lot of pictures to give you the ability to re-envision the space when you aren't there, as well as provide your graphics team the ability to mock up the graphics in a real setting as mentioned earlier. 
 
Understand and Choose Materials Wisely
1.) How durable do these graphics need to be?
Will these be for one-time use and thrown out? Will they be in a high traffic area and at risk of people touching them? Will they be utilized indoors or outside? These are a few questions to ask when choosing your materials. Material choice can affect durability, successful application, and cost; so it's a good idea to seek counsel from those you're working with on the project to steer you in the direction of the most appropriate material choice for your project.
2.) What types of surfaces are in the area?
The surface a graphic will be applied to will affect the type of adhesive and material you will want to utilize. The same material that you would utilize on a finished sheetrock wall will differ if the graphic were to be installed on a cinder-block wall. Be sure to seek counsel from the company you're working with, or research the available materials in the market to be sure you choose the correct one.
3.) Will these be up for a day, a month, or years?
Some materials are better for one-time use, and others are more permanent. A wall graphic that you would like to stay up for years may require a material that has a stronger permanent adhesive. In turn, if this graphic is for a one-time use you would want to avoid a graphic with an adhesive strong enough it could damage the surface beneath when taken down. These are all things to consider when choosing a material for your project. For example, one might recommend foamcore as a rigid, indoor, short-term use material, but if that same sign needs to be graded for outdoor use, one might recommend coroplast.  
 
Installation: Think End-results in the Beginning
1.) How will this be installed?
It's great to come up with a grand idea, but if you don't properly consider the many details involved with the installation, your project could fall short, causing what you thought would be a wow factor, become a whoa!?!? factor.

A few questions to ask yourself in the planning stages of your project should be: Does the company I'm working with offer installation services? If so, how far are they willing to travel? Do they offer removal and disposal services as well? If I'm doing the installation myself, do I have the proper tools and training? And lastly, does the host site of my event have any restrictions surrounding my ability to brand my space or offer any assistance? (Note: Some facilities insist they handle the installation of any graphics or signage within their facilities, others may leave it completely up to you.)
2.) How do most companies handle installation?
Large format companies tend to vary when it comes to offering installation services. Offering these services typically depends on the company you're working with's core business focus. Are they a sign shop? A trade-show company? If so, these businesses tend to offer a more robust set of services when it comes to installation. Keep in mind the cost of the install could vary greatly depending on the size of the company and their approach to the install (Nationwide corporation vs Small business & Equipment, processes, and training).
Companies, like here at Pittcraft, asses installation on a project-by-project basis. We are not a sign shop, however, depending on the scope and location of a project we may offer installation services by way of our own in-house large format team, or utilize third-party business partners when the scope of the project gets beyond our capabilities and oversee the installation as a consultant. Lastly, some companies offer no installation services whatsoever, and will only provide you with the finished graphics leaving the installation up to the end-user.
Closing 
We hope this sets you off in the right direction on preparing and executing your next large format project! If you are interested in working with us to kick off your next large format project we'd love to get your thoughts by filling out the form in the sidebar above to the left...
From a one-off banner to floor-to-ceiling wall graphics, we're here to help and look forward to hearing from you soon!
Our Work
---
---