Missouri State Athletics & Pittcraft Ink Partnership Renewal
July 4, 2018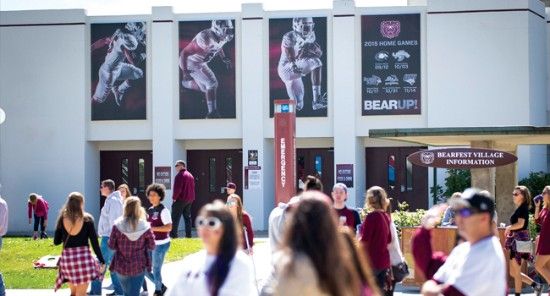 SPRINGFIELD, Mo. (July 1st, 2018) – Pittcraft Printing and Missouri State Athletics have announced the continuation of their relationship into the 2020-21 collegiate athletic season. The renewed agreement goes into effect this fall and will be overseen by the university's athletics multimedia rights holder, Learfield's Missouri State Sports Properties.
Pittcraft Printing receives year-round exposure as a Missouri State Athletics corporate partner, complemented by brand visibility in print publications, posters, schedule cards, and courtside signage at JQH Arena during basketball season. Additionally, Pittcraft Printing will serve as presenting sponsor for a select men's basketball game and continue handling all of the Bears' comprehensive printing needs.
Jake Rudisill, Director of Sales and Marketing for Pittcraft was happy to announce the renewal; "We've had a great relationship with both the Missouri State University Athletics team and Learfield for a number of years. There are a comfort and trust level there that extends far past a corporate partnership. We're excited to continue working with them and are proud to align our brand with a progressing athletics program like Missouri State."
The two were able to realign some details of the agreement that Rudisill is excited about. "We took a slightly different approach to this round of negotiations, and we're excited about a few new elements and how we feel it can help impact not only our brand awareness in the Springfield Market but provide some quality lead generation efforts in the area as well." 
"The entire team at Pittcraft has been incredible to work with, and they've proven time and time again that they're not only extremely dependable but continue to deliver high-quality, showcase products," said Mike Peddicord, general manager for Learfield's Missouri State Sports Properties. "We're pleased they're extending their partnership with the Bears. We're grateful for their relationship, as well as their ongoing support of MSU athletics."
At the end of this agreement, Pittcraft will have been Missouri State's official printer for nearly a decade, coupled with their other long-standing partnerships like the official printer of the Kansas City Royals, and the University of Kansas Athletics to name a few. Their niche in the print-related sports marketing world is almost unmatched in the Midwest, but Rudisill wants people to know that sports marketing is not all they do, "We're most well known for our sports marketing partnerships, but our expertise crosses over many industries and products. We work with a lot of academic institutions, small product manufacturers, and logistics companies to name a few, and we can help with items such as direct mail marketing, product packaging, and large format graphics..."
Missouri State is one of nearly 130 collegiate properties represented by Learfield. The company's rich history includes over four decades of developing trusted, long-term relationships with some of the most revered institutions and associations in the world of college sports. Additionally, it titles the Learfield Directors' Cup and offers its collegiate partners access to professional concessions and ticket sales; branding, licensing and trademark consulting; digital and social platform expertise; campus-wide business and sponsorship development; and venue and technology systems through its affiliated companies
---
---